As you know, absolute purity is very important.
We know how to comply with it.
Medical treatments generate harmful laser particles and vapors. To protect patients, staff and themselves, more and more physicians are using filtering extraction technology during medical and aesthetic procedures, thus reducing the risk of infection to a minimum.
Dangers in dermatology practices
During laser hair removal, spraying a coolant onto the skin prevents skin burns. Highly toxic vapors are produced while burning hair follicles with the laser. Those must be reliably extracted and filtered.
High protection against infection during laser treatment
Patients expect infection protection and cleanliness. Laser smoke or the smell of burnt skin particles make them feel uncomfortable. The patented InLine filter in the capture element ensures that filter and extraction systems by TBH provide particularly high protection against hazardous particles in the laser smoke. Casters allow mobile working. The systems can be cleaned in just a few steps.
What particles/emissions are produced during hair removal with the laser?
The exposure that occurs during laser treatment is a mixture of biological and cellular particles that can also appear as gas or vapor. Particles can be larger than 200 micrometers but also smaller than 10 nanometers, depending on the intensity of energy applied to the tissue. A 1987 study by Byrne et al. (1987) was only one of many that detected papillomaviruses and multidrug-resistant pathogens in laser smoke. Other studies that reached the same conclusion included Garden, 1988; Sawchuk, 1989; Kashima, 1989; Gloster, 1995. Furthermore, the researchers found a list of other harmful particles in laser smoke:
In two studies on rats exposed to CO2 laser smoke, the researchers demonstrated an irritant effect on the lungs. If the smoke was previously passed through a high-performance filter system that retains particles down to a size of 0.1 micrometers, there was no clinical or histological effect.
Source: Eickmann U, Falcy M, Fokuhl I, Rüegger M, Bloch M, Merz B. Chirurgische Rauchgase: Gefährdungen und Schutzmaßnahmen. Hrsg: Internationale Sektion der IVSS für die Verhütung von Arbeitsunfällen und Berufskrankheiten im Gesundheitswesen. 2011 (German)
All occupational health and safety guidelines require extracting first, followed by wearing PPE = personal protective equipment. Only extraction with HEPA filters tested to EN 1822 guarantees optimum protection for patients, medical staff and doctors. According to TRBA 250, DGUV Rule 109-002 Occupational safety regulations require extraction first, then wear protective equipment.
What is the key to capture correctly?
It is not easy to see the crucial differences between the numerous filter and extraction systems available on the market. For example, the highest air flow rate and the best filters are of relatively little use if the capture element is not optimally adapted to your process. Another important aspect is cleaning. The InLine filter captures particles directly at their point of origin. Less harmful particles remain in the extraction arm on their way to the filters in the system, which significantly minimizes the cleaning effort.
An optimized hygiene concept ensures residue-free removal of all contamination caused by germs on and in the extraction system. CleanControlling Medical GmbH & Co. KG in Emmingen-Liptingen, an independent, accredited test laboratory, has tested and confirmed the effectiveness of the TBH hygiene concept. 
The capture construction, consisting of capture element, extraction arm with joints and base tube as well as the cover of the extraction system, can be effectively cleaned in just a few steps. The InLine filter in the capture element catches the first particles while the others enter the filter and extraction system. We recommend changing the InLine filter daily or at least once a week, depending on the intended use and the system's period of use.
In this video you can see how easy the cleaning is.
Removing fibromas / skin care
Fibromas are small growths that can hang off the skin. Laser therapy removes defined skin layers. The particles created in the process are harmful to health. Our filter and extraction systems extract these particles reliably from the air.
Laser therapy is an effective method for removing tattoos or skin pigments such as age-related freckles. Lasers only act on pigments, allowing them to be removed by macrophages, the body's own scavenger cells. Lasers do not react with pigment-free skin parts. Laser smoke must be extracted and filtered with appropriate systems to ensure safe treatment.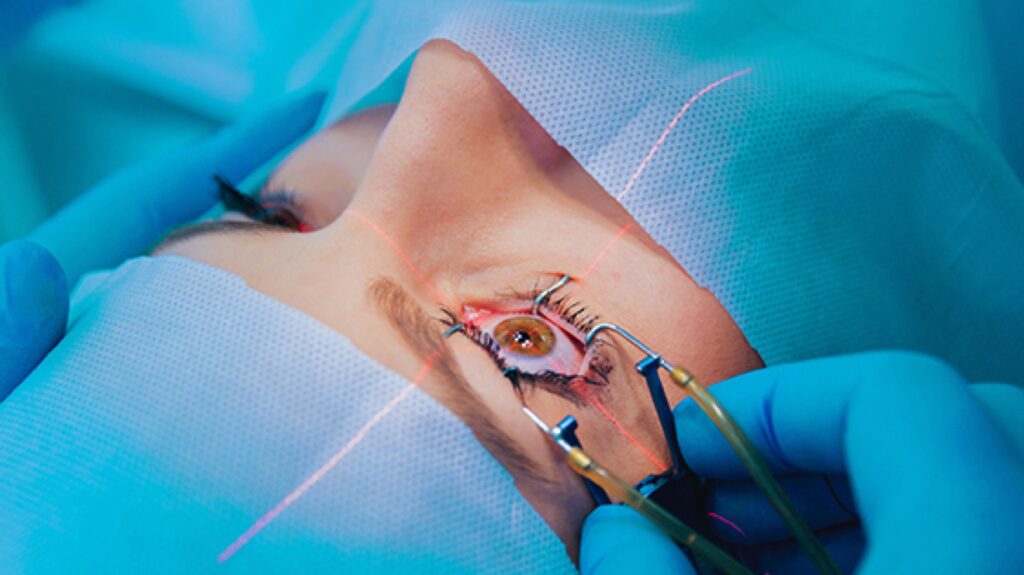 Laser eye surgery uses lasers with a therapeutic goal. A better understanding of the interactions between lasers and biological tissue has enabled their use in the treatment of diseases such as diabetic retinopathy, age-related macular degeneration, glaucoma and cataract.
Removing birthmark with lasers
If a birthmark has to be removed, it can either be cut out completely or removed by laser treatment.  All conspicuous moles that can potentially degenerate malignant should be completely removed. The birthmark removal takes place under local anesthesia. Birthmarks are benign melanocytic dermatologic lesions that require treatment. Present from birth, they may represent more complex syndromic pathologies. Fortunately, the majority are benign findings. Such benign lesions can be removed with lasers specifically designed to target the melanocytic, such as the Q-switched laser.
Any treatment in  a dental practice creates high aerosol concentrations. Oral suction only eliminates coarse particles. A valuable device for reducing the aerosol risk in the practice is the professional, filtering extraction system by TBH.
A laser eliminates hair follicles. Its light destroys the target structures. The generated heat can cause slight burns. This leads to smoke, unpleasant smells from burned skin and dangerous gases.
Prof. Nikolai Attard
BChD., MSc. (Prosthodontics), PhD (TO) (Head, Department of Oral Rehabilitation and Community Care Faculty of Dental Surgery, University of Malta)
"The COVID-19 pandemic has brought many changes to our daily operations at the Faculty of Dental Surgery, University of Malta. From the onset of the pandemic in March 2020, the Faculty administration embarked on reorganizing our clinic protocols in preparation when we would start clinical sessions with our students. One of our main concerns was how to reduce potential exposure risks for our students, who are at various levels of training. Following discussions and guidance from Health authorities, the faculty introduced the TBH extra-oral extraction systems to be used for all aerosol-generating procedures. The aim was to capture at source any residual aerosol emanating from dental procedures. We have found the units to be very effective on various levels- the units are very powerful, yet without generating excessive noise. Indeed a high-speed hand piece generates more noise than the TBH units do. They are also very simple to operate. Another benefit we observed in clinics was that the unit has helped students maintain proper posture during the dental procedures since the TBH unit precludes them from engaging in bad posture. Patients, of all ages do not mind the unit on them and some have actually remarked that it made them feel more secure. The dental nurses feel that the units do not just offer safety to the students and patients but also to themselves, as extended members to the dental team. The units require little maintenance, and are easy to clean after every patient. Weekly, the filters in the unit get replaced to ensure maximum efficiency. To conclude we are very happy with the TBH units and highly recommend them in the dental clinic".
Dr. Marco Degidi
Dentist
"I believe the pandemic has made us realize how important it is to use all possible tools to improve air quality in dental offices, in order to protect ourselves, our staff and our patients. The use of TBH extraction systems is a key step in this direction and we are successfully using them in all seven of our operating rooms."
Not every system fits to every process.
Please contact us for further assistance. Simply call us at
+49 (0) 7082/9473-0
for more information and a non-binding individual offer.